There's
an awful, shitty story
in today's
Daily Heil
about
Wish You Were Here
actress Emily Lloyd. The
Heil
is big on the physical form of women. Some are too thin. Some are too fat. If you're famous and you haven't been declared 'just right' by the arbiters of Derry Street, they let you know about it in no uncertain terms. In Lloyd's case, "the glamorous looks which once helped propel her to fame are gone". Really? She's a bit broader in the beam, but she's still recognisably Emily Lloyd.
If this story amounted to nothing more than "woman looks different at 40 to how she did at 17" it would be cunty enough. However, read further down. "She has spoken openly in interviews about her mental health problems – doctors have diagnosed mild schizophrenia, Tourette's syndrome, obsessive compulsive disorder and attention deficit disorder," Nick McDermott informs us helpfully. Well, being splashed across the pages of a widely-read newspaper in this manner's really going to help her deal with those various issues. Who are the "concerned friends" referred to in the article? Or are they not friends at all, just random fuckwits who've spotted her in the street and thought "Isn't that the girl from
Wish You Were Here
? She looks rough. Might be a few quid in it"?
Oi, McDermott, here's a free story for you, y'twat. At 17, I looked like this. Wasn't I a little darling? Fresh-faced, almost pert. And that's just a portrait. You can't see what I was like beneath the nipples back then. Bloody hell, I was gorgeous.
This is what I look like now, and I'm only 38. I've really let myself go, and I've done it quicker than Emily, who, as far as I can see looks absolutely lovely. I am frequently seen traipsing between my £80,000 3-bed terraced house (That's your preferred snidey house style, isn't it? I've estimated the value based on what houses of similar size go for round here now. I didn't pay that for it, obviously) and the chippy, having lost the glamorous looks that once made some girls consider me vaguely acceptable after a few pints. Unfortunately, I have no mental health issues for the likes of Nick McDermott to dwell on. I also have a penis and am not even vaguely famous, which might well be the deciding factors in the
Mail
's ultimate decision not to run with this exclusive.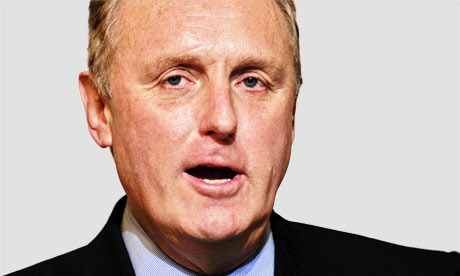 In contrast, look at this buff, toned specimen of sex. That's Paul Dacre. He edits the
Daily Mail
. Look at his inviting mouth. You just would, wouldn't you? Phwoarr, eh? Eh? I think I've just spunked in my pants and I'm not even slightly gay.
If you read the
Mail
, remember that it hates everyone. Including you. Especially you if you're a woman.